Call In System:
We have implemented a secure call in system for our clients. This service may be accessed via a toll free 800 number. Our IT Department provides new clients with a code to access the system.

Once a client has access to the system it is very easy. Simply call the 800 number and you will be prompted to enter your code. Once you have entered the code you will be provided with an audio menu. From here you may choose to record a new dictation. Once finalized, the file will be sent directly to our transcription team to begin work.

In house secure servers assure complete confidentiality for your recording and also provides for added security as there are no middlemen within the process.

Transcription Service Highlights:

•
We provide twenty-four hour service, everyday of the year to ensure that we meet your transcription needs.
•
Complete confidentiality and security guaranteed.
•
Whenever requested we provide client specific formatting of final transcripts.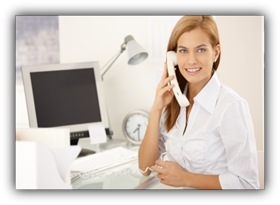 Call today toll free: 1-844-446-3362
Email: Sales@hoffmantranscription.com